At The Swan, we know that some of our bedroom guests enjoy a spot of fishing. We also get those who come to us for an evening meal and a few drinks after a day, or even an overnight stay, at the waterside. To help you get the best out of your time, our team has put together a guide on planning a fishing trip to the Cheshire countryside.
A Fishing Trip In Cheshire – Our Local Spots
Holmston Hall – 3.9 miles from The Swan
Holmston Hall is home to several pools, designed to cater for all abilities. Firstly, the carp pool, their most established water containing a wide variety of fish, includes common and mirror carp (up to 30 pounds), chubb, barbel, bream, crucian carp, and tench. Secondly, 'The Moat', which was established in 2005, contains silver fish and F1s. Finally, the woodland pool is a smaller pleasure pool with a mix of fish weighing up to 15lbs, it's suited to the less experienced angler.
Lloyds Meadow Fishery – 8.8 miles from The Swan
Lloyds Meadow Fishery is a 9-acre, day ticket fishing venue with well stocked coarse lakes nestled in the Cheshire countryside. Coarse fishing species include crucians, roach, rudd, perch, bream, ide, tench and the usual suspects: mirror common & ghosties. Established over 25 years and a firm favourite with many fishing clubs and individuals in Cheshire and the North West, Lloyds Meadow Fishery is often featured in national fishing magazines and receives great online reviews, check them out!
Hampton Springs Fisheries – 10.7 miles from The Swan
Hampton Springs Fishery is one of the leading day-ticket fisheries in the North West and we're lucky to say that it's just over 10 miles from The Swan! Set in the scenic countryside of southern Cheshire beneath the Bickerton Hills, this fishery is an idyllic and peaceful environment to enjoy a day's sport. Hampton Springs is well-established and has eight superb spring-fed lakes with easy access. Stocked with their own farm-reared coarse fish, you can expect to quality catches from a wide range of species. With both match and pleasure waters, as well as a specimen carp lake to choose from, Hampton Springs is an ideal venue for experienced, competition, novice, and junior anglers alike. They also have an onsite tackle shop for all your fishing trip needs, this is ideal for those who are staying with us for a few nights.
Fields Farm Fisheries – 17.1 miles from The Swan
For a choice of fishing and angling, you'll want to take a trip to Fields Farm Fisheries. This place really is a gem of a fishery in the North West, with excellent mixed stock through five spring-fed pools. This fishery is ideal for all types of anglers – if you're a skilled coarse angler, you'll appreciate the different waters and species of fish they have. Or, If you're just beginning, their careful stocking policy means you're more than likely to make a catch. Once you're fishing at your peg, you can sit back and enjoy the peace of this beautiful fishery and let the abundance of nature catch your eye.
Eating Out During Your Fishing Trip
If you're looking for somewhere to eat and drink after a spot of fishing in Cheshire, then why not end your day with us? At The Swan, we offer a number of pub classics combined with several seasonal dishes. You can view our food and drink menus online. We also aim to use the fantastic produce from the local area wherever possible!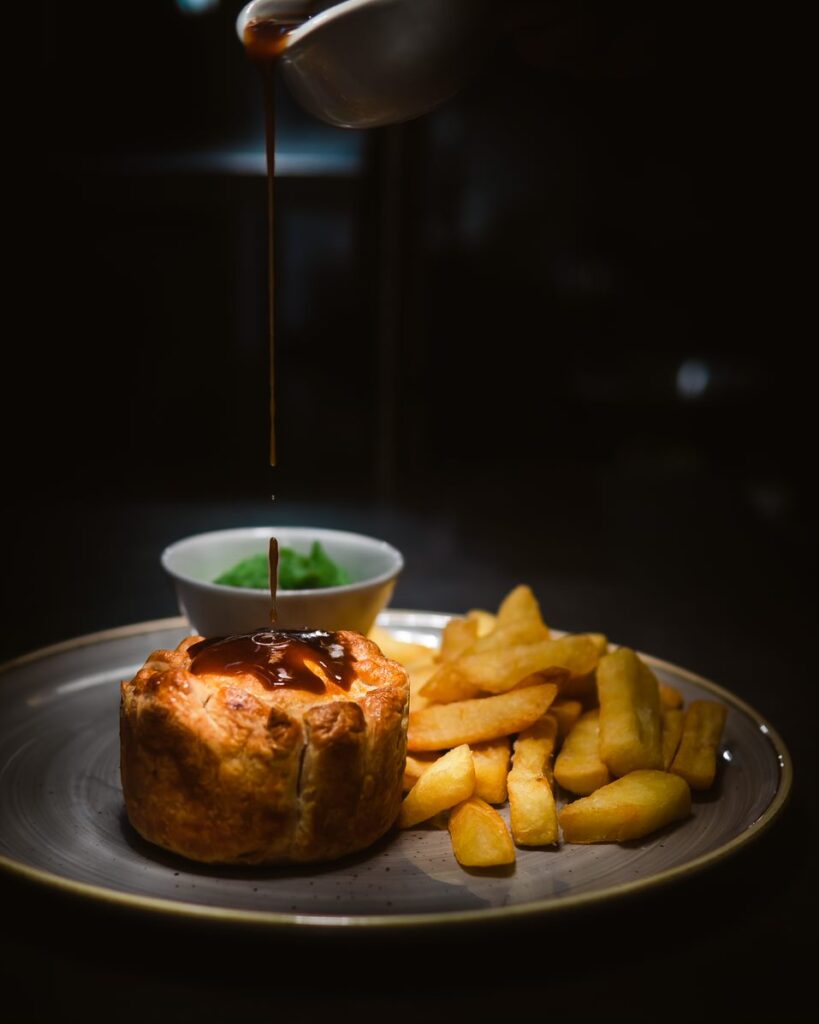 Planning A Fishing Trip in Cheshire – Staying Overnight
Make a whole weekend of your fishing trip! You can stay overnight with us at The Swan too. With so many pools for you to choose from locally to us, you could even extend your trip over a few days, that way, you can experience more of what Cheshire has to offer in the way of angling.
We have 16 newly refurbished unique rooms on offer here and would love to welcome you to stay.
Children are most welcome, as are dogs (check with our team for our dog-friendly rooms). Additional beds can be added to many of the rooms for a small additional charge, so ideal for a full family trip.
You can book a stay directly on our website to benefit from the best rates.